A Look Back at Homecoming Fashion
How We've Changed Over the Years!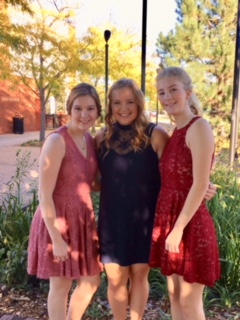 Fashion changes every year. Everybody's style in clothing changes, but it seems that it turns over rapidly throughout high school. Every year, Homecoming and Prom are a runway platform to see the current fashion trends on your friends.
Now that Homecoming is over and the frantic pace of fall has given way to the chill of winter, it's fun to look back and see how our style choices have changed over our four years at PLHS.
Ladies, do you remember freshman year of Homecoming? That first awkward dance when you had no clue what kind of dress to get, how to wear your hair – up or down, straight or curled- and just how much makeup to put on. Oh…and let's not forget those heels we had no idea how to walk in!
As I've gotten older, the over-done sparkle of freshman year is now just a sophisticated twinkle. This year, the mass of bling was replaced by more subtle choices.  The two most common dresses I saw in the fall of 2017 were the tight, fitted dress with a lace overlay or the short v-neck ballgown.
Shoe choices showed another change in style. A very popular choice this year was the wedge sandals. Mixing the tight, lace overlay with the sandals was a style commonly seen throughout the night.
Not only have the dress styles changed, but the actions at the dance itself have changed as well. I remember during freshman year, it was scary to go out on the dance floor and dance. I was nervous people would look at me in a way I wouldn't like, judging my every move.
Attending the dance as a senior, things have changed. I didn't care about who watched. We went to the very front, danced, and jumped around like goofballs. Gone are the days of worrying about what others think, and here are the days when it's okay to just have fun.
Change always happens as we grow, and it's a great part of life.