Trip to La Ola Del Lago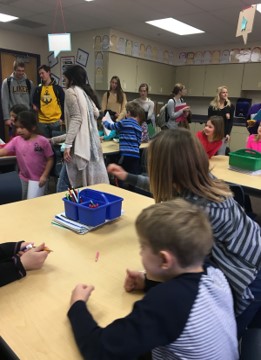 On December 7th, Prior Lake High School's Spanish V students took a bus to teach and interact with young kids attending La Ola Del Lago in order to have fun, practice speaking Spanish, and meet new people.
La Ola Del Lago is a school connected to Edgewood Elementary in Prior Lake. It is home to a Spanish immersion program for kindergartners, first graders, and second graders.
The coordinator, Richie Kucinski, and the 16 staff members hope to continue expanding their school, eventually reaching the 12th grade.
For a project in Maria Lecceardone-Brown's Spanish V class, Prior Lake students created lesson plans and activities for the kids at La Ola Del Lago. Teachers from the Spanish immersion school asked for the plans to center around clocks, maps, forces, shapes, colors, and easy words. The more creativity in these projects, the better.
The difficulty for the Prior Lake High School students was that they weren't allowed to speak any English. The staff at La Ola Del Lago want the students focusing on the Spanish language during their entire school day. Many of the students even continue using Spanish in their own homes with their family and friends.
Samantha Sage, a senior Spanish V student, said "some of the students at La Ola Del Lago knew more Spanish than me!" This immersion school is preparing its students to balance fluency in both English and Spanish.
Spanish V kids were given two work days in school to prepare for their 40 minutes of teaching. They printed maps, made movable paper clocks and designed memory games. Sage said, "creating maps simple enough for first graders to understand was hard."
At La Ola Del Lago, after the five minute bus ride, Prior Lake students traveled from classroom to classroom with a partner. Each group of two older kids paired up with groups of four younger Spanish-immersion students.
Kindergartners played games pertaining to shapes, colors and matching, while first graders learned about decoding maps. Second graders spent their session with the Spanish V students telling time and making cut out clocks. Sage said, "overall it was a great experience and everyone had so much fun."
Maria Lecceardone-Brown, the Spanish V teacher, said "my favorite part of this activity was watching the interactions between the students."  The kids at La Ola Del Lago were extremely eager to see the older students and many of them were literally jumping for joy when the high school students arrived. "It's an eye- opener for Spanish V students to see the realities of teaching," said Lecceardone-Brown.
The intent of the trip to La Ola Del Lago was to have the students from both schools practice their Spanish speaking skills. It was also a fun opportunity to do something different. Lecceardone-Brown said, "the purpose is to make real life connections with the younger students."
Lecceardone-Brown insists that "the best way to improve your Spanish is to practice" and she encourages speaking out loud and using Spanish as much as possible. The La Ola Del Lago trip was a way for her students to use what they have learned in a setting outside of their high school.
La Ola Del Lago's students were ready to learn from people other than their teachers, and they had high energy and creativity levels. It can sometimes be less intimidating to speak with other students rather than with a teacher.
"We should definitely do this again but for longer next time," said Sage. The Spanish V Students and the younger kids responded well to this project and both groups can't wait to be reunited again.