You're In For(eign) a Treat – Germany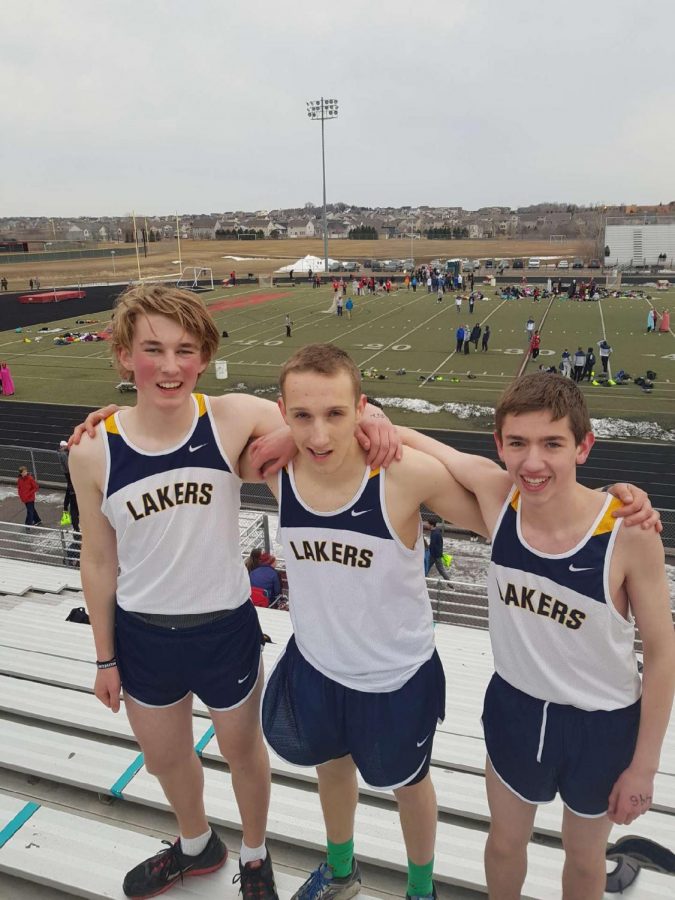 Jonas Selter is a 16 year old from Germany. He is studying here in Minnesota as a foreign exchange student. Although he would be in 10th grade in Germany, he is enlisted as a senior so he can experience events such as Prom and graduation. Jonas was nice enough to take time out of his busy schedule so answer some questions for me! Here are his responses back!
Question: What interested you in wanting to be a foreign exchange student?
Answer: I was really excited about being an exchange student for a variety of reasons. For me, the most important one was definitely to be adventurous and see a different part of the world, learning about a different culture and meeting new people, learning about their perspectives and lifestyles. Of course, part of the reason also was that I intended to improve my language skills, which has definitely been a success for me; I am especially thrilled to learn Minnesotan "slang" terms that I wouldn't find in a dictionary, such as "pop", "hot dish" or (my favorite one) "Uff da." But after all, the point is that I am not only visiting Minnesota for a year, it's so much more than that- Minnesota has become my home, PLHS has become my high school and the people here have become my family.
Question: What was your first reaction when you found out you were coming to Minnesota?
Answer: At first, I was just very excited to finally know what state I would be living in and I was excited to learn more about my future home state. To be honest, my expectations were mainly based on stereotypes- Minnesota is cold, that's the first thing that came to my mind, so I'd have to bring a coat. And I happened to know that the Super Bowl would be in Minneapolis, so I proudly started to tell my friends that I would get tickets and see the Super Bowl in the US Bank Stadium. After I arrived, I quickly learned that Minnesota is so much more than just cold- my first weeks in September here were sunny and warm. And it didn't take me very long to figure out that I would not be attending the Super Bowl game because tickets turned out to be everything but cheap.
Question: How was it leaving you family for a year? (You don't have to answer this question if it's too personal)?
Answer: Leaving my family was definitely the most difficult part of the decision whether or not I really want to be an exchange student. Looking back now, I know that it was worth it, and I actually gained a lot of independence by living away from my parents for a year. But leaving your family behind is definitely a necessary step to determine if you are ready for the adventure of being an exchange student.
Question: What did you think of Minnesota when you first landed here?
Answer: My very first impression about America can probably be described as a culture shock- everything was different in a way. Cars were bigger, food portions were huge, I suddenly got free refills on my pop and every house had air conditioning. However, this was only my very first impression of the country; after a few days, I started to really get an impression of Minnesota, and I loved it. On the one hand, there were the people- everybody welcomed me in the friendliest possible way, complimenting my English and asking questions about my life as an exchange student. On the other hand, it didn't take me long to fall in love with the state's nature. I am so lucky to live in the land of 10,000 lakes and I very much enjoy the numerous trees, the birds and also the different seasons that I obviously got to experience here, with almost 100 degrees last fall and some days in the negatives throughout the winter.
Question: What are some things done differently in the school system?
Answer: According to me, one of the biggest differences is the way our schedules are organized. In America, of course, I have six periods every day, and therefore I'm taking six classes every quarter that I have at the same time every day. In Germany, however, I took thirteen classes at a time in my freshman year. The school day consisted of eight instead of six hours, and every class would meet a couple times a week, not every day, so I would have a different schedule for every day. Another important difference is that in Germany, teachers usually don't have one assigned classroom that they teach in, but travel from room to room after every hour. I think that really affects how teachers do their job and how students enjoy their classes: coming into some teacher's classroom here really feels like walking into their home for me, because they have been teaching in the same room for years and they are able to decorate it with whatever they want. I really wish it was like that in my home country!
Question: Is schooling here easier or more difficult?
Answer: For me and for most exchange students that I have talked to, school is easier here than in our home countries; however, the main reason for that is that exchange students usually take easier classes than American students do. For example, I am required to take English, US History and US Government here. Other than that, I can take whatever I want. I am sure that if I was taking math, AP or Honors classes, they would be just as challenging as the classes in my German school and I would have to deal with a lot more homework.
Question: What is your favorite class you have taken?
Answer: Overall, my favorite class was definitely Astronomy with Mr. Volm. I enjoyed being able to take this class because that's what I am most interested in, and besides all the knowledge I gained in this class, Mr. Volm also had some tremendous projects for us, such as a design-your-alien project.Throughout the year, I have taken some very different types of classes, because I was interested in trying something new- we usually don't have electives at German schools, so this was very exciting for me as well. I was able to experience some true Minnesotan Winter sports in Winter Rec with Ms. McNallan, I gained some important skills in Mr. Deutsch's Electricity class and I had so much fun with Mr. S in Physics, who really knows how to make this class enjoyable for his students. In addition, I always loved to come to Mr. Gaudette's US History class, who taught me so much about American History and gave me a whole new perspective on the country I'm living in!
Question: Who are some of the new friends you have made?
Answer: I have met so many people at the high school and with some of them I have become really close friends. Generally I would say, the friends that I made on my sports teams are the ones that became my best friends. Seeing each other at practice every day, working hard together and motivating each other to keep going, we have helped each other so many times, and experiences like that just form and strengthen friendships.
Question: Have you joined any activities (student council, yearbook, etc) and what do you think about them?
Answer: When I signed up for being an exchange student, extracurricular activities were one of the main reasons why I wanted to go to an American high school. Therefore, I have joined different activities throughout the year: Last Fall, I joined Theater, helping in the set construction group for "A Christmas Carol". Then, in the Winter, I was a swimmer on the PLHS Swim and Dive team. And currently, I am running long distance for the Track and Field Team. After going through these experiences, I can't even tell you how much I learned. It has been an honor for me to compete as a Laker, wearing the blue and gold colors, and both my swimming and track coaches have not only helped me become better athletically, but they have taught me important life lessons. In Germany, high school and sports teams are separated, and after being able to be part of American high school sports, I can only emphasize how lucky you are to have the opportunity of being part of a team like that.
Question: Do you like the school lunches better here or in your home country?
Answer: I know that many American students complain about the school lunches here- and I agree, it's definitely not the finest cuisine. But that's not really different in Germany- according to me, it's just very challenging to provide that many meals for hundreds of students every day. After all, I like the American lunches better because there are more options to choose from, like the Mexican food from "The Bowl", the main lunch line or even the Laker Cafe.
Question:What is your favorite thing about Minnesota?
Answer: It is definitely the Minnesotan people, there is no doubt about that. The term "Minnesota nice" doesn't exist without a reason, that's for sure! Even after all the time that I have spent here, I am still amazed by the Minnesotans' friendliness! People that I just met moments ago are talking to me about last night's hockey game, people that I know from my sports teams smile at me on the hallway and say hi, and my friends just spontaneously invite me to have dinner with their family. I really enjoy spending time with Minnesotans, and most of the time, the small things, that seem completely normal for Minnesotans, are the ones that make me happy, because typical Germans are generally rather serious people who don't enjoy small talk too much, and I'm enjoying the Minnesotan alternative a lot.
Question: Have you been to any high school events here (like homecoming, prom, etc)? If yes, which was your favorite?
Answer: I have been to quite a few Highschool events! I went to all football games Prior Lake played since I came, I saw the state Volleyball game, I went to a band concert, and a choir concert; I also went to all three dances (Homecoming, Sweethearts and Prom). I really enjoyed every single one of them, but I think my favorite was the Homecoming football game: I went all out for the Laker Pride theme and dressed in blue and gold; I was overwhelmed by the school spirit that all Lakers showed on that day! It felt like being part of a big family. It started raining during the game, but we stayed there till the end and had the best time in spite of the weather.
Question: Did you celebrate holidays (such as Halloween, Christmas, thanksgiving, etc.) here?
If so, which what was your favorite? What did you like about it?
Answer: I certainly did! I celebrated Halloween, Thanksgiving, Christmas and Easter here. My favorite one was Thanksgiving, just because that is the only one that I had never celebrated before. The Christmas and Easter traditions here were fairly close to what I was used to, and even Halloween has made its way to Germany and thus wasn't much different. But Thanksgiving was a whole new experience, and I very much enjoyed that everybody came together at one table- and there was so much food, it's really hard to find words for that! According to me, the turkey was the highlight. Anyway, I did not have the luck to be here for the Fourth of July. That is certainly a Holiday that I would love to experience because it is closely related to the history that the US rose from and to the values for which this nation stands.
It is clear that Jonas has had a fabulous experience here at PLHS. As the year wraps up, let's give Jonas the best ending to his American High School experience!