Prior Lake NAHS Art Show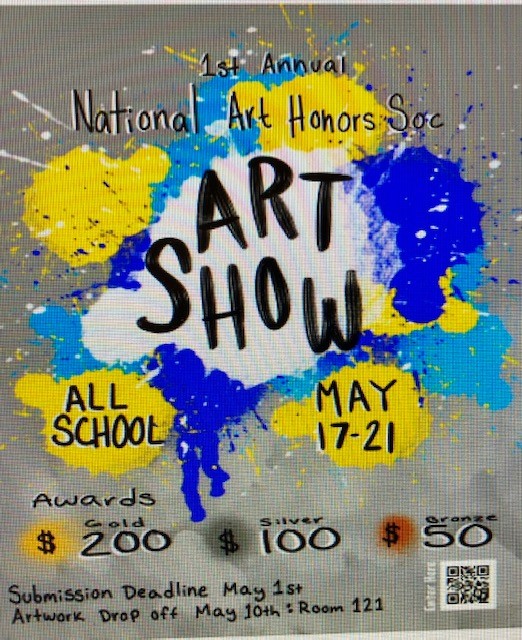 Thressa Schultz, Contributor
May 10, 2019
Prior Lake High School's National Art Honors Society (NAHS) will host 1st annual all-school art show May 17th-21st, awarding cash prizes to top artists.
The art show will be held in the Prior Lake High School (PLHS) commons area. All artwork accepted into the show will be on exhibit.
The deadline to submit work was May 1st.
To enter use the QR code found on the attached poster.
Members of NAHS will preview and accept work into the show digitally, and an email will be sent out to the qualifying artists soon after May 1st.
NAHS-Secretary Olivia Nelson said, "All students are welcome to enter and submit their artwork in whatever medium they choose."
The Prior Lake High School Art Department staff will jury the show-voting on their favorite pieces.
The top three artworks chosen will be awarded cash prizes – 1st place $200, 2nd place $100 and 3rd place $50.
The cash prizes were generously donated by a member of the Prior Lake-Savage Optimism Club
When talking to Mr. Showalter, a Pottery Instructor at PLHS, he said: "I am going to offer one of my own pieces as an award for the artwork of teachers choice, aside from the other cash prizes." Showalter is a well-known potter outside of Prior Lake High School walls. He also sells his pottery at fairs, online, and throughout the country.
While talking about the upcoming event, Nelson described the Art Society as follows, "It's a place where anyone can share their love of art. And although we may be small, it's as good a place as any to share your passion. That's the reason we are putting on the art show, so everyone has a chance to be a part of an artistic environment."
NAHS is a national organization throughout the country. Founded in 1978. The Honors society has made exhibits possible to young artists. As well as providing community service and scholarship opportunities to upcoming artists in middle and high schools.
Prior Lake High Schools National Art Society is taking applications for the 2019-2020 school year. Applications are within Mrs.Malmgren's room 121 – Photography Teacher at PLHS.
There is a minimum grade average to be considered for the society. A grade point of 3.0, community service hours, and meeting attendance are all qualifications.
Prior Lake High School's Art show is coming soon. "The deadline is May 1st, and everyone's artwork is welcome! This is a great way to show off the talent of our artistic students a PLHS." Said Nelson.
As Showalter said, "Everyone, in my opinion, should enter, I mean why not!"
Art Show entry form – https://docs.google.com/forms/d/e/1FAIpQLSdpbEZ66YLClAV9l_ilAshV3lXy5UcAAh7TeYXJFUQ_PI5uQQ/viewform