Understudies Interview: Why They Made Mamma Mia Work
Many of you most likely saw the Prior Lake High School's performance of Mamma Mia in late November. The show starred Olivia Nelson as Donna and Bella Merwin as Sophie. However, there were two cast members that you did not get the pleasure of seeing in these two iconic roles. These amazing actresses named Audrey Klein as Donna and Claire Kwiat as Sophie put a lot of work into their jobs during the course of rehearsal. So I decided to shed some light on their hard work ethic. This is the interview conducted with them the night of one of the performances.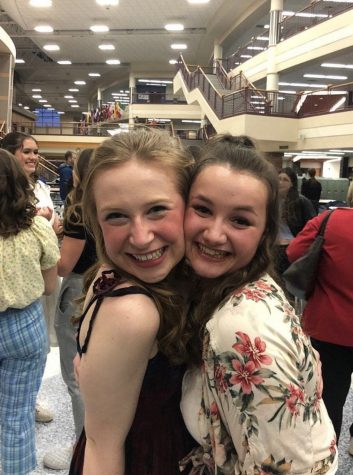 What were your expectations or assumptions going into practice having been cast as an understudy?
C: I thought I would be able to sit out in the audience and take notes, and that really didn't come at the beginning but as the show went on I got to do that.
A: For the rehearsals I did feel like it would be a lot of independent work on my understudy part, I did going into it think maybe I would block or learn her(Olivia Nelson) choreography with her but instead it was a lot of independent work, which was gucci. It helped me work on my ensemble part a lot.
What was your reaction to finding out you had been cast as the understudy to one of the leading roles?
C: Originally I didn't really know what it meant to be an understudy and I was nervous, I don't know it just seemed really nervous to me having to learn two roles, and that is what it is. But when I first saw the sheet I was really nervous and scared. Maybe a little disappointed but then as we got through it I really enjoyed being an understudy.
A: It was a little funky. I was really excited for the new opportunity and the challenge that it would bring. I really liked working under Olivia, I thought that was really really cool. When I first saw the cast list I was a little like "ahhhhh" but it wasn't really disappointment. I was excited for what was going to come.
Did you learn the songs and choreography in parallel with the main actor or was most of it done on the side?
 C: It had to be independent, there wasn't really a time when he let me stand in and do the choreography. So it was very individual so that was fun.
A: It was mostly done on the side.
Were you ever given the chance to run through the whole show as the character?
C: No, but I do it on my own, I'll be in my room and I'll practice the whole show.
A: I was able to run stunts, but that was it.
Throughout production did you ever have to step in as (Donna/Sophie) for practice if (Olivia/Bella) was gone?
C: Yes. Only a couple times, maybe three or four times but I just got to step in for a little bit so that Dylan could see how it would work. Yeah, it was a really good learning opportunity for me.
A: She was never gone during blocking practice but during vocal practice she was gone a bit so I was able to step in for her.
Was the same amount of time put in to making sure you learned the choreography and lyrics as the main actor?
C: It was more focused on her, but that makes sense. With the understudy you have to learn it on your own times.
A: It was a lot of independent work but that's what they expected out of me so, in rehearsals no but they expected just as much from me.
Did you have a different set of costumes on the off chance you would need to step in?
C: No I would use Bella's if that opportunity were to come about.
A: No, if I ever did have to take her place I would just use her costumes.
How difficult was it to learn (Sophie/Donna)s parts on top of the blocking, choreography, and singing of the ensemble?
C: It was difficult at first but you get into the rhythm of it, like I was really focusing on ensemble and then I'd take days off for Sophie. It really became a process of organization. 
A: It was extra work but I wasn't necessarily difficult, but it was harder to learn the choreography by myself. But overall it wasn't that hard just added work. So it took more time which is fine.
Was it harder to find the inspiration to memorize the lines knowing that you probably wouldn't wind up needing to know them?
C: At first yeah, for maybe the first month I was like I don't really know what to do, I don't know how to do this. So at first I just wasn't feeling really motivated. But as the show went on I realized that I needed to be there for her I needed her to feel safe that if she did get sick that I could be there.
A: In the beginning it was harder to get started but once I got started it was like a snowball form there and I got really excited about the character even though she technically Isn't mine. I was just excited to be there and to support Olivia.
Looking back are to glad you had this experience as an understudy?
C: Totally!
A: Yes! I very much am because this is what I want to pursue, musical theatre is what I want to do. Being an understudy really demonstrates how much work that's going to be if I want to do this in the future.
All in all It's very clear that they took their job seriously and handled the stress it can bring with more grace than can be expected.
If you want o see some of these stars in action, Winter One Acts are happening January 10th and 11th at 7 pm. Tickets are $5 for students and $7 adults.