Prior Lake High School's Asian Student Association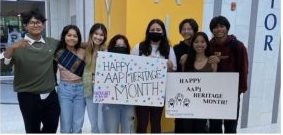 The PLHS Asian Student Association has grown since it was first formed last year. In order to help students around the school learn more, some of the leaders involved provided some insight into the significance of ASA.
The Asian Student Association was formed last October 2021. Now, with a board of six students, the board members, Neeha, Tash, Himeeka, Jaelin, Danny, and the founder Lindsay, decided to create this club because they shared similar desires for our school.
"I started this club because I really wanted to make a welcoming community," said Lindsay Lu, founder and board member of ASA. 
One of the club's main focuses is allowing students of all diversities to feel safe and welcome.
"We wanted to target AAPI (Asian American and Pacific Islander) students who were struggling to find a place in this school," said Neeha Tondapu, junior and board member of ASA. "The other group we target is people who want to learn. Even if you're not Asian, you are completely encouraged to learn and listen to your AAPI peers." 
Since its inception, the ASA club has hosted numerous events at school to help further its desire to educate and connect. One of their first independent projects was a Culture Fair Walkthrough on the second floor, near the activities office. 
In May of last school year, ASA also put together an AAPI Heritage Month Bridge Walk. 
"They kind of get these big ideas and I don't know how they pull it off. The whole thing is organized and all of a sudden it's done," said Kristi Malmgren, art teacher and present advisor of ASA. "They follow through."
All their events are aimed to help other students learn about their cultures and backgrounds, hoping to bring the school together.
"ASA is striving to unite us," Tondapu said. 
The club meets every other Monday and Wednesday (during Laker Time). During the meetings, one of the things they enjoy doing is discussing topics in small groups and then forming a large one to share their ideas.
"Sometimes we do basic topic meetings like holidays, traditions, and stuff. It's a learning environment, but also, people can share their own thoughts," Tondapu said.
The ASA members allow other AAPI or POC students to discuss and voice their opinions on the current topic of discussion.
 "I'd say it's definitely a warm environment. Sometimes when we don't have as many members show up to the meetings, I feel like that's when we can get more personal in a way," Lu said.
The Asian Student Association is open to everyone, whether you want to feel heard, or want to find a place to feel comfortable in this school. The members of ASA work every day to give students the feeling of relief knowing there's a place they can turn. 
"I think they're going to do some great things," Mrs. Malmgren said.