Unity in Unified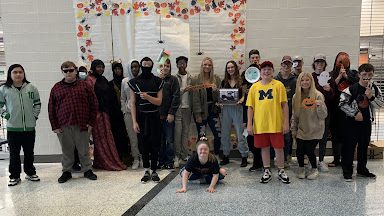 There are a variety of clubs and organizations at Prior Lake High School. Anything from language-oriented clubs like French Club or student-led organizations like Black Student Union.
All of these clubs have the goal of bringing together students with similar interests or values, but what about clubs that focus on bringing together students with different interests and backgrounds? 
The Unified Club led by Hannah Ring, a teacher at PLHS, specializes in creating a sense of community and unity within our school and between students of all levels of learning. 
Unified Club started before the pandemic in 2019. The club is student-led which places a lot of the outreach and awareness for the club in the hands of the students involved. 
As club advisor Ms. Ring explains, "We knew we would have to work to spread awareness and probably advertise quite a bit to make sure there was student involvement."
The club's student engagement derailed with the disruption of in-person classes with the COVID pandemic. And less student involvement in the club left it harder to run.
Since most effects of the pandemic have run their course, Ms. Ring hopes to restore the club back to its former glory. 
"The main goal is to provide more inclusive opportunities,"  says Ms. Ring. "We have definitely achieved that goal, but are always striving for more." 
Anna Raway, Life Skills Teacher at PLHS, describes another unique quality of the club.
"Getting used to working with people with disabilities is a really great thing for everyone," explains Mrs. Raway. "It gives perspective."
Unified allows students to connect with each other on a deeper basis than many other clubs available in this school. 
Mrs. Raway describes her goals for the club as wanting to "Show that people with disabilities are not scary… they're phenomenal people, and they can do so much more than they're given the chance to." 
After the club's brief hiatus, it organized events like Christmas-themed movie days, sports events like pickleball, and even art-oriented events like painting. 
"This club has the most positive impact," explains Ms. Ring. "The friendships and connections that are made during events you can see having an impact on students every day during school."
Unified prides itself on creating a community built on inclusivity.                                                   
"I would love for our kids to be able to work with their Gen-Ed peers," explains Raway.
Mrs. Raway also discussed a program that Lakeville North High School implemented which is a Best-Buddies type of system giving students the opportunity to work with other students with varying disabilities. 
For students with an interest in learning more about the club and potentially becoming more involved within the group, "Reaching out to me or Ms. Ring is a good place to start," says Mrs. Raway. 
"Join the Schoology page PLHS Unified," adds Ms. Ring, "or ask a staff member for more information."
Unified Club offers a unique and valuable experience for anyone looking to learn more about their peers and others who attend this school. The club has garnered more attention due to its revival and hopefully will continue to gain new members who are seeking a sense of community and a fun atmosphere.
As Ms. Ring says, "It creates an inclusive environment, and everyone benefits from that."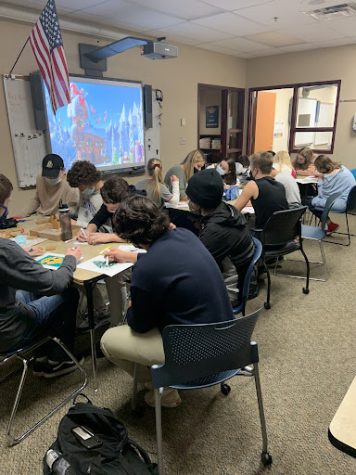 Unified Club Christmas-themed movie day in Winter 2021