Teacher by day, super weightlifter by night
Mrs. Wolf is a weight lifter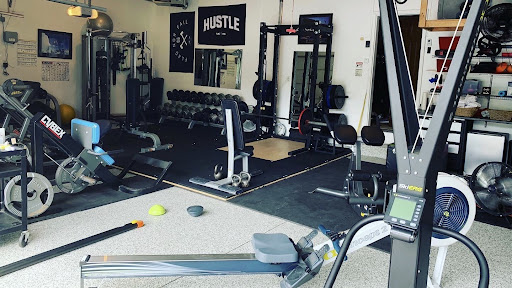 The air is tight. The sweat is brutal. The barbells, squat racks, and punching bags wait for the strength of the human body. Just one more push of determination, results in the overwhelming feeling of capability, confidence, and courage.
Mrs. Paula Wolf is a PLHS Social Studies and Psychology teacher who, in her free time, enjoys weightlifting. Not only does she lift, but she opened up a gym in her garage, now called Wolf Wellness.
She started weightlifting after her divorce. 
"I just was really going through a time period in my life where I was getting divorced and I had a really low self-image," Wolf said. "I literally couldn't look in the mirror. There was just a lot going on in my life that caused me to question my self-worth."
As someone who studies psychology, she knew that if she felt strong on the outside, it could impact her ability to feel strong on the inside. Strength training helped her gain back her confidence.
After seeing the positive outcomes of weightlifting firsthand, she knew this was something that could be beneficial to other women. 
"I really wanted to give women access to gyms. Gyms are very daunting, especially the lifting part for women. It can be very intimidating and it's costly."
Mrs. Wolf charges around $20 an hour, but she sometimes assesses what a client can afford. When she takes on a class, it gives her the opportunity to lower the prices as well.
"I wanted to give women, in particular, a way to get what I get out of fitness, and specifically lifting and feeling strong in an affordable way," Wolf said.
Her gym is only open during the summer so she can fully focus on each person, without the stress of having to balance school with training. She tells her clients to put forward their mental health and take care of themselves, as she is also doing with herself.
A handful of those clients are teachers here at Prior Lake High School.
"Right when she opened it pretty much, I started going there and working out," said Barbara Kass, colleague and friend of Mrs. Wolf.
Ms. Kass, along with many other people, has only positive comments about Mrs. Wolf and what she does.
But with all the immensely positive comments come a couple of negative ones.
Mrs. Wolf has gotten comments about her body and her strength. Some even assume her muscles reflect poorly on her character. Ignoring the haters, the truly motivational part is her will to fight those comments with positive ones for herself. 
"Any negativity that's brought into your life is going to have some negative effects, but the degree to which it does is really limited to me. It's not going to keep me from going to the gym. It's not going to keep me from lifting as much as I can. It's not going to keep me from being who I am and the benefit of being who I am," Wolf said.
Mrs. Wolf tries her best to share that confidence with her fellow clients. 
Her focuses are on health, not weight. She focuses on what people can do and accommodates their abilities and needs.
"It's about overall health and wellness. It's not trying to drop weight or trying to meet a certain image. It's about being healthy, and loving the body that you have," Kass said.
Mrs. Wolf is an inspiration. She encourages us to do what we love, and love what we do, no matter who tries to bring us down.
And that is something that deserves to be celebrated.