Court is in session for Prior Lake Mock Trial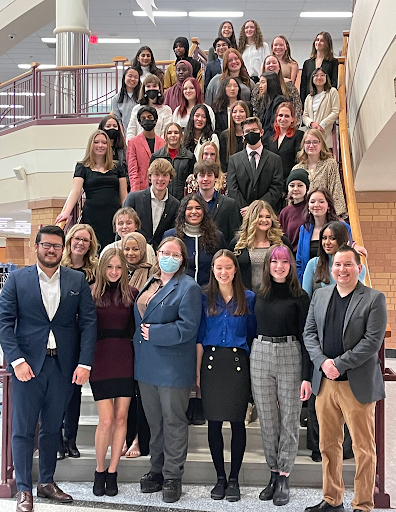 A tiny after-school club consisting of barely enough kids to form a single team now has a record number of Prior Lake High School students participating. 
The first Prior Lake High School Mock Trial team was made up of just 8 students. Now, a record 45 as well as two passionate coaches meet after school in the new D-pod to study a mock court case, write and memorize direct and cross-examinations, and prepare to argue the case against other schools around the metro in hopes of competing at the state tournament.
The program is often viewed at first glance as "boring" and "nerdy" by the majority of the student body, but the influx of students from all different clubs and activities says otherwise.
The head coach of Prior Lake Mock Trial, Mr. Takuma Padilla, has been active in the program for the last 5 years, and head coach for 3, replacing Mr. Gaudette in 2020, and now recruiting English teacher Mr. Allen as his assistant coach. A very busy person, he divides his time between teaching at MNCAPS and coaching/doing behind the scenes work for the school's baseball program. Padilla makes the mock program just as much of a priority, and his passion for the activity as well as the success of the students that participate shows.
"Mock trial is a competitive activity that's run by the Minnesota State Bar Association, the MSBA, and we get a casebook every year and teams from around the state will then analyze those casebooks and form teams that have six attorneys and six witnesses. You'll learn your material, attorneys will write questions, an opening statement, and a closing statement. Witnesses will work on learning their character they were assigned and then go to competition with the information. Every team is working from the same material, but teams can definitely differ on how they want to go about and attack each single trial," said Padilla on the format of the activity.
A court case, a stereotypical intimidating judge, men in stuffy suits, an ornate, cavernous courtroom, and a criminal or maybe two, seems like a far cry from what 14-18 year old high school students may find interesting, but Padilla says that is anything but the truth, going on to explain why students in mock trial become so involved and collaborative with the work that they are doing.
"We have fun with it. Yeah, there's a lot of work that gets put in right away at the beginning, and that can sometimes be painful, but once we go to trial and get that feeling of accomplishment and success, I think that just hooks people in. I think we've got 45 students this year, which would also set a record high for Prior Lake Mock," said Padilla.
The influx of new students in the program is thanks to many factors such as word of mouth and the different students coming together to form a tight-knit community.
"I think first and foremost, we keep growing because students have good experiences and they get their friends to join, so at tryouts, one of the questions that we typically ask with rookies is 'how'd you hear about us,' and a lot of times it's, 'hey, such and such person that did mock last year told me I should do this.' We continue to grow. I also think one of the reasons why we keep growing is that I honestly do believe we're one of the most, if not, the most diverse program in the high school," said Padilla.
In terms of community among students from different schools, captain and current junior Mina Ibrahim agrees that healthy competition ends up bringing former strangers closer together and even creating friendships through the activity.
"Honestly I would say that the environment at mock trial tournaments is very similar to sports tournaments. I see it as an 'academic sport.' There is that same level of intensity and passion that you would see on our school's football team to win our trials, but I would say that a big difference is how we see our opponents. After our trials, we always go talk to our opponents and laugh about the mistakes we made and get to know each other better and get each other's social media info, knowing that we'll most likely see them at our next tournament," said Ibrahim.
Through participating in mock trial, students get the best of both worlds, not only having fun and forming bonds with those similar and different from them but also getting to develop themselves as people, gaining valuable skills to carry on into life after high school, no matter what that path may be. 
"Despite it seeming like mock trial is only for students interested in law, mock trial is an activity for everybody, and students will use the skills learned from it no matter their future career choice," said Ibrahim.
Those skills? "Public speaking, teamwork, critical thinking, persuasion and argument building skills, and more," said Ibrahim.
"I think mock trial is interesting for those that want to just work on their public speaking and self-confidence and teamwork because in mock trial, students are able to build all of those types of professional skills in a fun, but still competitive environment," said Padilla. 
Students not only develop their professionalism skills, but social skills as well. "With mock trial, you have to be able to talk to adults," said Padilla, as the trials later in the season are often presided over by real judges as well as attorneys. "You have to be able to express your concerns, explain your ideas, and back them up with evidence. I think with all of our students that go on to college, even if they don't do college mock trial, those skills are transferable to any major that they might have where they're dealing with professionals." 
With all of these incredible factors coming together, new students will find that despite the largest roster ever, Prior Lake Mock Trial is still strongly connected to its roots: a tight-knit family. 
"I think we have awesome students!" said Padilla. "Awesome captains, people that I like to work with. I wouldn't do it if  I didn't have fun coaching the kids, and then of course, we've got other coaches and attorney coaches that help us. I've got three, four, people that did Prior Lake Mock Trial as students that come back and help, so it makes me happy to see that people do want to stick around after they graduate." 
For students interested in getting involved next year, "You can follow us on our socials, Twitter @PlMocktrial and Instagram @plmocktrial and we'll always have an informational meeting towards the end of September before we get our season started. We also have a booth at the Activities Fair at the start of every school year," said Padilla.
Over years of hard work by students and coaches alike, mock trial has grown into much more than an octet unknown to the rest of the school. In the court of student interest, don't consider Prior Lake Mock Trial v. Student Body dismissed just yet.