Laker Leaders visit elementary and middle schools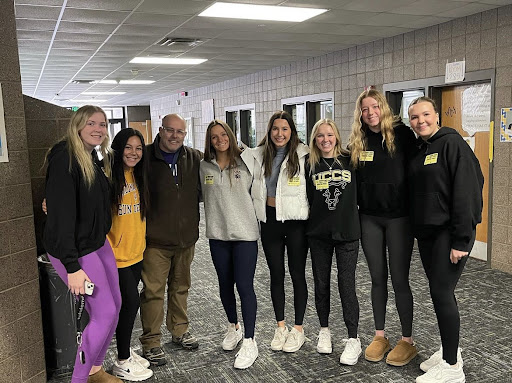 Laker Leaders, a student organization made up of leaders from various clubs and sports throughout PLHS, visited middle and elementary schools over the past two weeks to give presentations to younger students about commitment.
Students traveled to all of the elementary and middle schools in the Prior Lake-Savage district to present their own thoughts and ideas on the subject of commitment. This is only the first round of visits — more are planned for March.
"One of the best ways to learn something is to teach it — for the Laker Leaders themselves to be going into classrooms and talking to them, interacting with them, and teaching them about commitment along with the other topics we have will help to ingrain it in their lives, making it more important to them," said Mr. Jeff Marshall, Laker Leaders coordinator and PLHS Activities Director. 
The school visits provide an opportunity for Laker Leaders to showcase their experience and provide insight to younger students. To prepare, members of the group have been developing, learning, and participating in activities at meetings during Laker Time to further their leadership abilities.
"It really is a great opportunity that so far has been successful and clearly has younger students intrigued," said Sara Carlson, a senior Prior Lake Mountain Bike captain who presented at Redtail Ridge Elementary. 
As an optional activity for members, the first round of visits featured over 70 Laker Leaders participating, with groups of 3-4 taking on one class at a time. With more visits planned, the goal is for more classes to have the opportunity to listen to Laker Leaders give presentations on new topics. 
"To hear from older students, who they look up to… can have a greater impact than hearing it from an adult. The hope is that by having high school students go in and talk about topics and demonstrate being a great role model, the messages will set in more than they would coming from a parent," Marshall said.
In what so far seems to be a success, members of the group are excited that the feedback has been positive. 
"These visits help not only younger students, but members of Laker Leaders as well, so I am looking forward to the next round of visits," Carlson said.
As a club, Laker Leaders wants to get more involved in the community, and the group as a whole continues to prepare for future events. Most notably in the near future (along with more school visits) is the Talent Showcase on Friday, March 24th. Members of the group are being encouraged to showcase their athletic abilities at the event.
Currently, the group is looking for new members for the rest of this and next school year. Members consist of captains and leaders from sports/clubs throughout PLHS. If you have any questions or would like to join, reach out to Mr. Marshall, Ms. Pierson, or Mr. Padilla.