Junior Optimist Club wants to aid students with schoolwork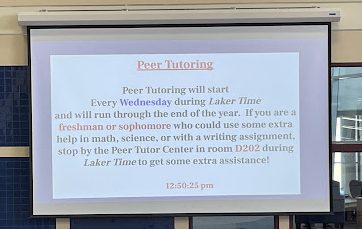 Prior Lake High School's Junior Optimist Club established a peer tutoring program at the beginning of 2023 for students seeking extra help with their school assignments. 
In the past, many of the JOC's projects focused on community service outside of the school. This program is a way to help PLHS students internally.  They hope it will be successful and grow since "A lot of students have more trouble approaching adults and asking for help instead of talking to someone their age or who has been through the same class as they have," said Naomi George, the JOC's vice president.
Two members of the club, Kaiden Cheung and Alex Wang, work together with other tutors to run the program at the Peer Tutor Center in Room D202 during Wednesday morning Laker Time. 
"It's no big deal. You're confused, and I'm just here to help you. That simple. There's nothing to be embarrassed about," Wang said. 
The Peer Tutor Center takes walk-ins in D202, a classroom setting with no appointments needed. Mostly, the available tutors assist their peers in math, science, writing, or general study skills. 
Since most of the tutors are currently juniors not knowing the content of senior subjects, they focus mainly on helping freshmen and sophomores because the tutors acknowledge that many students struggle a lot in the classes that, thankfully, they already took.
The tutors also recognize that revealing answers right away doesn't help students. Instead, they go through and provide the steps to solve problems as well as recommend outside resources for more guidance later on.  "It will be very important for them to develop the foundations. We're trying to help them get good foundations for studying or resources to succeed," Cheung said.
Before the program started at the beginning of 2023, JOC members and advisors worked from mid-October through December of 2022 to plan out everything and get approval. The tutors needed to get organized and know their strengths to be effective.
Students needing help will find it since "The range of subjects we can help them with is probably far greater. Since we actually took the course, we know what subjects were difficult. We know what things might help or work," Wang said.
Dan Steger, an adult advisor for JOC, first introduced the peer tutoring program in October, and members then accepted the opportunity to get involved. The program allows students to collaborate face-to-face with other students as a solution to academic difficulties.
"Junior Optimist Club is very focused on helping others around them. With peer tutoring, we are able to help people who aren't able to step up and ask for help or get outside tutoring resources if they can't afford it," George said. 
JOC members participate as tutors to provide an accessible service to PLHS students.  If you're ever having trouble, please stop by during Laker Time in Room D202 to work with a tutor!