Prior Lake students feel their hearts beat with excitement
The morning after Valentine's Day, anatomy students got their blood pumping while watching Chicago doctors perform heart surgery through a live stream.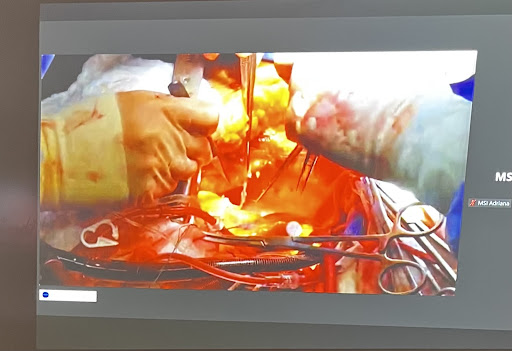 All anatomy students came in early February 15th to watch doctors conduct a coronary artery bypass surgery, a procedure used to treat coronary artery disease. This disease is usually caused by a buildup of plaque within the arteries. The surgery took place at Advocate Christ Medical Center in Oak Lawn, Chicago. 
Due to technical difficulties, students watched a prerecorded video of the surgery, rather than a live stream. The video featured different nurses and doctors talking about their roles in the operating room, how much schooling they went through, and any advice they had to offer.   
Students got to hear from a scrub nurse, a surgeon, and an anesthesiologist. Each person talked about what they do and control in the operating room, giving students a chance to see how a medical team works together. 
After the surgery ended, students were given the chance to ask a doctor from Advocate Christ Hospital a few questions. Most questions related to post-secondary options and the daily life of a medical professional. 
Anatomy student Bella Nelson said, "It helped me see how much schooling and education I would need to get into these fields."  
Bella, like many other students in her anatomy class, is interested in a profession in the medical field in the future. 
She said that the experience "Helped narrow my options as to what career I would want to go into. I didn't realize how similar yet different all the positions were."  
This experience also provided students with the unique, first-hand opportunity to witness a surgery. It's one thing to learn in class. It's another for a student to see with their own eyes. 
"I learned how complicated the medical field is and how much collaboration surgery takes," Bella also said.
Students saw how efficiently everyone in the operating room works together. The nurses and doctors explained how they work like a well-oiled machine. As someone gets the next tool ready to go, someone else monitors the patient. 
Anatomy teacher Mr. Weis said, "the main goal of this viewing was for students to see different people involved in the surgeries and to see how many jobs and people there are in the operating room."  
Mrs. Fagan and Mr. Weis, the school's two Anatomy & Physiology teachers, said that they hope that this experience gave students the opportunity to see what a career is like and to see what schooling they'd have to go through. It's also a chance for them to see what an operating room is like before, during, and after; the prep work, the surgery itself, and the clean-up afterward.  
 This experience first started around 2016-2017 and has been a success since. The live stream is coordinated between the school and the hospital beforehand, with the medical center sending out the dates for surgeries and the school picking which date falls during the heart unit.