"You know my ways, Watson!" — With a twist!
Makenzie Bounds plays the lead role in the upcoming production of Sherlock Holmes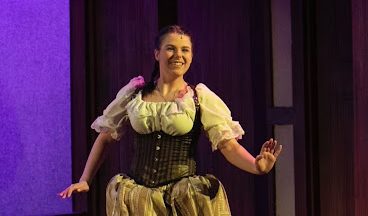 In the Elizabethan era, acting troupes full of men performed in Shakespeare's biggest hits. Romeo was played by Romeo, but so was Juliet. 
Being illegal for women to act on stage, men completely dominated the theater scene. 
Thankfully, the theater community has progressed with time to welcome the talents of all people.
Pushing outdated gender boundaries in theater, Prior Lake High School sophomore Makenzie Bounds will star as Sherlock Holmes in the school's production of the show from April 21st-23d.
"It's so exciting!" Makenzie said. "I think it's super cool, because throughout the books, Sherlock has always been played by a guy, and so to be a girl and play Sherlock, I think that's really cool."
The role of Sherlock, traditionally a male, will be turned into a female for this production.
 "It's breaking boundaries in theater," Makenzie said.
Makenzie will be playing the investigator Sherlock Holmes adding her own style and personality, despite how society expects an intelligent investigator to look and act. 
"I am portraying the character with a very masculine energy because Sherlock has always been portrayed that way, but I'm adding my own touches of femininity into the character as well."
The purpose of genderbending the role was not just because Makenzie was the best fit, but also to question the standards of casting within the theater community. Up until the end of the Shakespearean era, it was illegal and even deadly for women to appear on stage.
"I think it's kind of flipping the standards of society upside down," said director Dylan Kaercher.
Practicing pushing stereotypes as simple as theater characters can also create opportunities for stereotypes to be questioned in other areas of life.
"Hopefully what it does is it gives people an opportunity to question other things," Kaercher said. "We start to change things up and have bigger roles for women, bigger roles for, you know, actors of color, bigger roles for the LGBTQ community that necessarily aren't always viewed like that."
Not only Prior Lake's production will further diversify the theater world, but it also holds an incredible amount of talent.
Makenzie has been acting since elementary school, and her hard work has paid off because of her relentless efforts to improve her craft.
Makenzie said, "I prioritized my commitment to theater throughout my freshman year of high school. I always focused on, what I can do to be better. How can I move forward? I feel like my hard work and my determination over these couple of years that I've been in theater has shown and it's paid off. It's exciting that my dreams are finally coming true."
While theater makes up a large portion of Makenzie's life, she also experienced impressive successes in this year's speech season and in her academic career. Makenzie received many varsity placements this speech season and attributes her successes to her passion for her extracurriculars.
"I'm involved in theater and speech, and that can be somewhat hard to balance because they both require a lot of energy and commitment from me. But I think that because I'm so passionate about both activities, I'm able to manage them better," Makenzie said.
Although she is an underclassman, Makenzie has been described as the perfect fit for the role by all of the casting directors.
"I think Mackenzie had her audition, and she was literally the perfect fit. She walked in for her audition and everyone in the room was like, I feel like that's it," Kaercher said.
Much of the casting can be attributed not only to Makenzie's talent but also to her naturally curious personality.
"It made her a great fit for sure, to be someone who is curious and confident and inquisitive," Kaercher said.
While one may think that younger actors and actresses would be more difficult to work with, Prior Lake's director Dylan Kaercher disagrees. Interestingly, Kaercher prefers working with a younger cast.
Kaercher said, "But with a young actress, you get to kind of mold them into what you're envisioning for them."
While Makenzie is extremely talented, the rest of Prior Lake's cast is full of amazing and hard-working actors and actresses. Makenzie explained that working with this cast has been a great experience and that everyone is extremely encouraging to each other.
She said, "I can recognize their individual talents and strengths because I think everybody in our cast is amazing."
A large influence on the skill set of the cast is from the techniques Kaercher uses to educate them. Taking a different approach from previous directors, Kaercher is much more involved with the cast and takes extra time to teach them makeup and dialect and to conduct background research.
 "We do intensive days where we just talk about theater in general, acting and auditioning and hair and makeup. So you're building your knowledge to be able to move forward, not just here's a show and let's complete it, but what are we learning about the arts in general while we're putting on a show?" Kaercher said.
Kaercher prioritizes the development of the cast's experiences so that they can grow from the show and use the knowledge they acquire in the future.
Makenzie enjoys how rehearsal days can vary. emphasizing how the cast always works together and motivates each other. Some days they may be blocking, and other days it is as simple as running through lines.
However, in addition to running lines with the cast, Makenzie receives a lot of help from her mother. 
"Every night, my mom actually helps me practice, and so she'll read off the lines for me," Makenzie said.
Believe it or not, the actress has 330 lines to memorize.
Makenzie is excited to play Sherlock and thrilled to be a part of Prior Lake High School's production of Sherlock Holmes. 
"This show is fun. It's a mystery, so it makes you think a little bit, but everyone in it is extremely talented. And there are lots of fun moments."
Join us for the production of Sherlock Holmes at Prior Lake High School Auditorium on April 21-22 at 7:30 pm and April 23 at 2:00 pm.
Tickets are $6/Students and $8/Adults.
Buy Sherlock tickets here:
https://www.vancoevents.com/us/events/landing/31458