A bandaid for a bleeding cut
How Prior Lake High School is overcoming racial issues from the previous school year.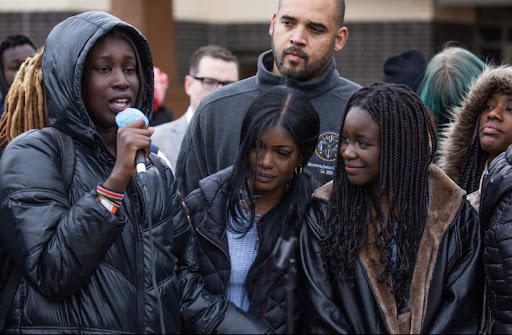 After an unforgettable year of events at Prior Lake High School in the 2021-2022 school year, what is it like there today?
Currently, staff are much more pleased with the students and are feeling more connected. During the early stages of the last school year, PLHS staff dealt with major behavioral issues and felt a disconnect with students. 
"There was a weird vibe right off the bat," said Dr. John Bezek, principal of Prior Lake High School. "Everyone was getting used to getting back in school full time and students were used to being on their own and thinking they could do and say what they wanted."
It started with the incident with former Prior Lake student Nya Sigin who was the victim of a racist video that was released during the last week of October 2021. The racial video was an exclamation point on the staff's feeling that there was something terribly wrong happening at PLHS. 
 "There were the feelings of guilt, anger, hurt, empathy, and the feeling of thinking if I was failing my job," Dr. Bezek said. 
This was a very hard time for him as students and staff were feeling uncomfortable and there were many different outside sources reaching out to Prior Lake High to question the video that was released.
After getting worldwide attention, numerous protests were led by activists at PLHS.
 "I felt like what happened then was okay," said Jeffrey Marshall, Prior Lake activities director. "I felt like allowing whoever to be here to have a voice and for students to feel that support was okay."
Multiple protests occurred after and then the highly-awaited school board meeting took place. Outside activist groups came in and shared their pieces which ultimately turned south.
 "Very uncomfortable. It was hard to listen to. I agree with the message but the way it was delivered I struggled with it a little bit," Mr. Marshall said. 
Students at PLHS felt like protests weren't enough to change the culture and perspective of the school, so they decided to have grade-based assemblies. At these assemblies, students listened to racial stories and incidents that have happened in current POC students' lives. In total, there were 8 assemblies over the course of three days.
"I think we raised awareness in terms of how deep it cut people they knew, and that's where I'm hoping we made up the most ground," said Mark Paulsen, Prior Lake High School assistant principal. 
So what is Prior Lake high school like today? 
Throughout the 2022-2023 school year, PLHS has been pretty peaceful other than the occasional behavior issues here and there.
"I think we are in a better place because we are doing more things that build kids up than we are responding to negative things that tear them down," Mr. Paulsen said.
Prior Lake hosted a school global cultural fest showing all different cultures and everyone coming together as one. Spectators clapped loud for everyone as there was no division in the crowd, showing that the school is heading in the right direction.
 Now PLHS staff continue to make students aware that if someone says or does something, there is no excuse or claim for ignorance. The goal is to make students feel like they are at home at PLHS, and that they don't treat people badly inside their home.
"I think we are getting there. We have a long way to go, but I'm hoping the more we keep students involved and the more we do these things that build connections, we will keep 
heading in the right direction," Dr. Bezek said.