Mr. Meiners has 'chemistry' with students across the world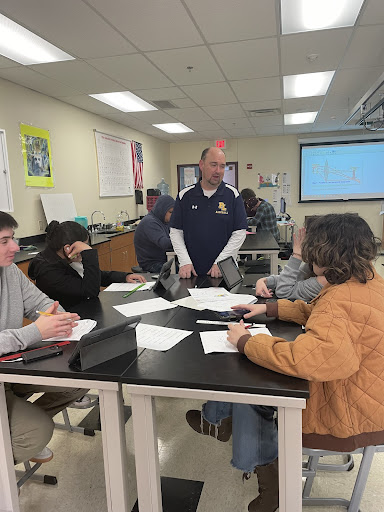 Kirby Meiners could sing Johnny Cash's 'I've Been Everywhere' and apply it to his own teaching career.
At the high school level, he has taught at many different schools.
He started in Lamoure, North Dakota.
Then he moved to Wells, Nevada.
Then he moved to Berlin, Germany.
Then he moved to Thorpe, UK.
Then he moved to Paris, France.
Then he moved to Mound, Minnesota.
Finally, he landed in Prior Lake, Minnesota.
Mr. Meiners has been a science teacher at Prior Lake High School since 2007. He has taught different levels of physics and chemistry, and he has made a positive impact on his students.
Meiners received his teaching license at the University of North Dakota.
He began his teaching career in January of 1995 in Lamoure, North Dakota. It is a small town in the southeast part of the state, and it has a population of just under 800. 
He accredits his interest in becoming a science teacher because of his own high school physics teacher.
"I did have a really good physics teacher in high school that made it as a thought of a possibility," Meiners said.
He enjoys going to school everyday and looks forward to what each class will bring.
"My favorite part of teaching is the variety that students bring. Every single day is different. Every single class is different," Meiners said.
As for his traveling, he has seen more countries during his teaching career than most people see during their entire lives.
In total, he has taught in 7 different locations. This includes 7 cities and 4 countries.
"I kind of always wanted to see the world," Meiners said.
His family's situation when he was younger led him to move around frequently.
"I started traveling when I was a very young kid because my father was in the Air Force. We moved around every 4 years when I was a child, and as an adult I just kept that up because I'm just fascinated by the world," Meiners said.
Meiners easily could distinguish his favorite destination to live and teach.
"Berlin…just because it was a very exciting time to be in Berlin. I was there for the 10 year anniversary of the fall of the wall."
Since arriving at Prior Lake High School, Meiners has become a popular teacher among different grade levels.
"He's very interested in helping his students learn and understand the material, and he makes sure to answer all questions to the best of his ability," said Andrew Schaaf, senior at Prior Lake High School who currently has Meiners in Physics.
Meiners is also well liked as a chemistry teacher.
"I wouldn't say science is my favorite class, but last year he made it a lot of fun, and I definitely recommend for students to have him as a teacher because of the impact and connection he makes," said Noah Kuboushek, a senior at Prior Lake High School who had Meiners for chemistry last year as a junior.
As a science teacher, Meiners understands most people will not become a scientist or science teacher. He hopes he can leave a mark on the students.
"I want people to be able to understand what they are taught and be able to apply it to the world outside of the classroom," Meiners said.