I-35: one student's road to success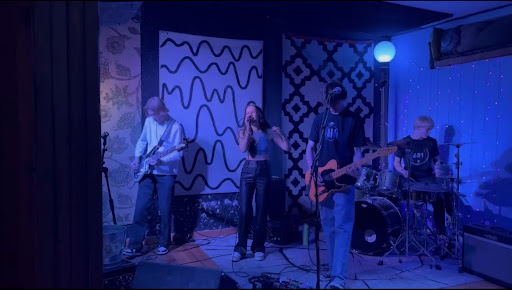 A packed schedule is no stranger to Veronica Maines. 
"I prefer to be busy, so even if I get overwhelmed sometimes, I'm ok with it," Maines said. 
Frontwoman of student band named I-35, Prior Lake High School senior, member of the National Honor Society, waitress, gym-goer, and social butterfly—Maines does it all. 
I-35 was formed by Maines. She and her three male bandmates met through the School of Rock, a music school in Eden Prairie. Alongside Maines, the band consists of junior Reagan Dawley on guitar, senior Charlie Gielow on bass, and sophomore Parker Deshaw on drums. 
The band has been playing together since July 2021 and has acquired over 300 followers on Instagram (@i35.band). 
"The motivation for me when starting the band was to prove I had learned enough about music to be able to do something with it," Maines said. "I wanted to be able to do something with more independence and not have an adult tell us what to do at every step."
With that independence came a considerable time commitment. The band generally practices twice a week, depending on each member's individual schedules and the band's upcoming shows. 
"The band practices in my basement," Maines said. "My brother plays the drums so we have a drum set, and we already had bass and guitar amps. We have a speaker, and all we needed was a mixer and some cords to get the microphones to work with it." 
I-35 plays gigs at bars throughout the Twin Cities area, covering songs ranging from pop, to rock, to metal. At a recent show at Neisen's Sports Bar & Grill in downtown Savage, the band played a two-hour-long gig and ended the show with a crowd favorite, "Hot for Teacher" by Van Halen.
Brooklyn Rentschler, a student at Prior Lake High School and an I-35 superfan said, "Seeing the band live is super fun. It's like a combination of going to watch your friend in a sports game and going to a concert. The energy is always lively, and Veronica keeps the crowd engaged between songs."
Outside of band life, Maines is a full-time student at Prior Lake High School and is enrolled in vigorous classes while maintaining an extremely high GPA. 
"Right now, I'm taking AP Literature, AP Economics, AP Calculus, AP Environmental Science, and Physics," Maines said. 
Maines keeps herself involved in school and is a member of the National Honor Society. NHS is an academic organization that requires students to maintain a GPA of 3.65 or higher, complete 40 hours of community service throughout the school year, and demonstrate qualities of leadership and good character. 
On top of this, Maines works a part-time job. "I am a server at Mallards, which is a restaurant in downtown Shakopee," Maines said. "I'm there 2-3 days a week, but if I have time, I like to try and pick up other people's shifts for more hours."
After she graduates from Prior Lake High School this June, Maines hopes to continue with music and her education.
"Hopefully, I can find people in college who would want to play with me, but I play piano and guitar, so, if not, I'll always be able to do it myself."
As for education, Maines will be attending college, though she is unsure where yet. "I plan on studying chemistry on a pre-med track," Maines said.
In her scarce free time between school, work, and band practice, Maines likes to go to the gym or hang out with her friends. 
"I get super antsy when I am not doing anything, so I try to stay busy all of the time."