Changing campus supervising one candy at a time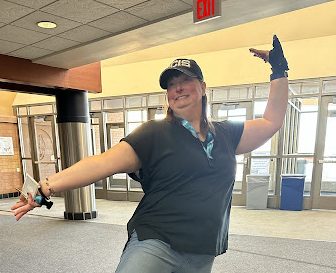 The stigma around Campus Supervisors is no secret. To many, they are the adults who come to reprimand us. Granted, you only get a reprimand when you aren't where you're supposed to be or are breaking the rules.
It's time to correct this point of view. An interview from Kimberly Bergan, campus supervisor as of January '23, helps us get to know the position on a deeper level.
It's the campus supervisors' job to keep students out of trouble and on track. With this task comes a negative attitude from some children.
After last year, which was full of so-called "devious licks" (glorified vandalism), campus supervisors have been cracking down on students' locations and intentions outside of the classroom. 
Bergan explains a day of work as a campus supervisor. "In the morning I get to the front desk and set up all the computers and the scanner and then we (she and the other campus supervisors) switch and I walk through the halls and retrieve people and hand out passes from guidance and then I come back here for an hour and then I go to lunch for half an hour and then I spend the rest of the afternoon just walking and making sure kids aren't getting into trouble." 
When Bergan is out walking the halls you will always be greeted with a smile. You may even get a piece of candy from her fanny pack if you're working hard and staying out of trouble of course. 
One of Bergan's favorite parts of the job is connecting with us kids. She loves the little conversations started at the front desk and the smiles from familiar faces.
"My oldest has Autism, but you wouldn't know it talking to him.  He would always go and sit by the locker bays for lunch. He didn't want to be in the lunch room with everybody, and so when I see those kids I try to connect with them so they know they are not alone and that there's somebody that understands without being intrusive. So I like that I can do that because people did that for my kid," says Bergan.
Bergan has had many jobs and, in the past, was an elementary school teacher. She explains multiple times the joy she gets from interacting with the kids and forming relationships with familiar faces.
She says, "I always seem to wind back up in this setting (education). I simply love the atmosphere here." 
What kids have to realize is that campus supervisors have a job to do. They aren't walking around the halls just to bust your fun. They are doing their job and some, like Bergan, truly love it, especially when they get to connect with us students.