The learning stairs: Colossal failure or undeserving scapegoat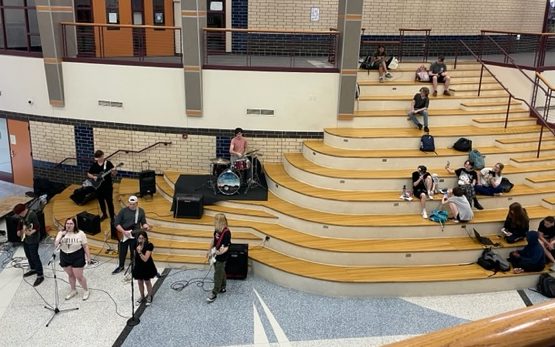 Occupying a significant footprint within the commons at Prior Lake High School, it is almost impossible for a student to avoid the learning stairs.
Often drawing the ire of students, the learning stairs were a small part of a massive renovation that completely transformed PLHS and ultimately improved the student experience.
Focusing on minor flaws within the renovation, such as the learning stairs, takes away from the extensive and highly successful renovation. It also does not allow students to focus on the many great additions within the building.
Following passing a $109.3 million referendum in 2018, Prior Lake High School received a $46.8 million grant for any renovations needed throughout the building. The learning stairs were constructed as part of a massive renovation by H+U Construction that completely reshaped PLHS.
However, following the completion of the renovations, students, and faculty struggled to find use for the learning stairs.
This frequently led to claims that the learning stairs wasted valuable resources.
"I think that the learning stairs are a creative addition to the school; however, they take up a lot of space, and I hardly see anybody taking advantage of the studying space," said PLHS senior Joe Perila.
However, some people, such as PLHS principal Dr. Bezek, would disagree with these claims.
"I think some people were looking for ways to be efficient with costs; however, I like them. I think they break up our commons well," Dr. Bezek said.
One crucial piece of information students typically need to consider when evaluating the value of the learning stairs is how the $46.8 million grant had to be spent.
"You cannot attach a dollar amount to many of these things. The money in the grant had to go into the building," Bezek said.
The grant money went into several sections of the building; an entirely new field house, cafe, three pods of classrooms, and a brand new school store, to name a few of the many additions made to the building in the 2020 renovation.
PLHS would be a completely different building if the renovations weren't done. The space and facilities were desperately needed, and the perception by some that the learning stairs were a complete waste of money and resources takes away from the other renovations that greatly improved the student experience at PLHS.
Although not fully used for their intended purpose and perhaps under-utilized by students and faculty, the learning stairs are part of a highly successful renovation. This renovation as a whole reshaped PLHS and should not be undermined by one perceived shortcoming.