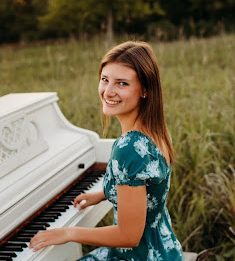 Set in 1959, Grease follows a group of too-cool-for-school, tough-acting boys and their gum-snapping, bobby sox-wearing Pink Ladies. The 1950s high school dream explores the age-old desire to be rebellious and provocative. At center stage is the romance between tough guy Danny Zuko and perfect Sandy Dumbrowski. They share a secret summer fling and now meet again in the fall at high school. Can their love survive peer pressure and cliques?  Audience members watch the romance and friendships unfold with well-known songs like "Greased Lightnin'" and "We Go Together" giving a musical nod to the great artists of the 1950s.
The PLHS Theater Department will present the musical Grease on November 16-18 at 7 p.m. and November 19th at 2:00 p.m.
Let's meet one of the musical's leads — Lucia Drane!
Can you tell us who you are?
My name is Lucia Drane! I'm in theater and choir.
Can you describe your theater career thus far?
I started theater my freshmen year, during Covid. We did a show called The Birds. It was rough coming back from Covid. Next, I started doing the competition One Acts, being cast in "The Pyramid" and "The Winter of 1917." Then I understudied Dorothy for The Wizard of Oz, which was a huge task and took somewhat of a toll on my mental health. After that, I played the role of Portia in the musical Something Rotten. This was my first lead role in a musical. I learned a lot about the importance of comedy and the importance of how different body language can help with delivery.
The PLHS musical Grease opens soon. Tell us about your role.
My role is Sandy Dumbrowski aka Sandra D.
How did you feel when you found out you got one of the leads?
I felt really happy and thankful because this is my senior year and I can go out with a bang. I'm glad to explore this character. I think I can relate to her, and I'm also thankful to have amazing people to support me and surround me.
Can you talk about the audition process?
The audition process this year was a little bit different because we had callbacks. For the first round, we sang a couple of measures of a song, read a piece of dialogue from the script, and performed a dance. And for consideration for a lead role, the directors gave callback scripts. On the day of callbacks, it was the most intense Prior Lake High School audition because everyone was determined and wanted to show what they could do. They had us read some parts and sing some songs. At the very end, they had a third round of callbacks with only 4 people who were being considered for the roles of Sandy and Danny. They had us sing You're the One That I Want to see the chemistry between different pairings and to see how well we could embody the characters.
What is your daily schedule with the musical?
It's crazy. Very crazy. Rehearsals are every day for 3-4 hours. We also have all-day rehearsals before the actual shows. We've also had a 5-hour rehearsal on our early release day, but it's fun and I love every second of it and wouldn't change it at all.
What has been your favorite part of doing the musical?
Celebrating art with my friends and the art of theater. It's really fun because it's an experience where we all get to share our talents. There's a number called We Go Together where we get to interact and work with each other.
Do you have plans to continue with theater in the future?
Definitely. I would love to do performances here and there. I'm not going to college for theater, but I want to keep it in my life. 
Do you have anything to say to anyone wanting to join the musical or theater in the future?
JOIN THEATER! It's such a fun experience and you'll never forget their experiences. It's hard work and intense, but it's rewarding and memorable
Why should people come to watch Grease?
People should come to have fun! The musical numbers are high energy, the dancing is brilliant, and the cast is extremely talented! The show also celebrates the importance of friendship, and you would support our community greatly!
Tickets may be purchased now at PLHS Theater — Grease Tickets