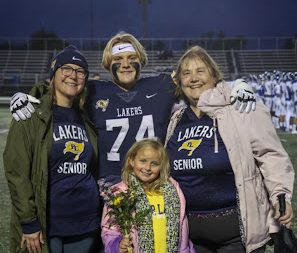 Consider how a young senior high school athlete feels about senior night. It's a time to celebrate athletic achievements and be surrounded by loved ones. Alex Geroux is missing a big piece, his mom.
The PLHS Football Senior Night was on Friday, October 13th, senior Alex Geroux won't have a mom with him to celebrate the final home football game of his high school career.
In June of 2022, Alex's Mom, Sarah Geroux, passed away from colon cancer she had been dealing with for a number of years. Alex was in between his sophomore and junior years of football in high school.
"I was at Dicks Sporting Goods when I found out my mom passed," Alex said. "My aunt called me to tell me my mom passed away."
For this senior night, he felt surrounded by other important people in his life who came to support him and watch him play. 
Since Alex was in 6th grade, he's loved the game of football. He used to play tight end until he got bigger and switched to left guard for Prior Lake High School.
"After putting the pads on in sixth grade, I've been in love with the game," Alex said. "After my senior year of high school, I plan to play football, but I'm not sure what I'm going to do for sure, maybe law enforcement."
Since Alex's mom's death, he has worked very hard and Alex has been playing better since her death. "Her death is like motivation. I feel like I play better when I think about her," Alex said.
The whole week, the JV coach Andrew Kurkowski, was planning on running a play with Alex getting the ball. "I plan to run a dive play with Alex in hopes he scores for his last game as a senior," Kurkowski said. 
Every day in practice leading up to senior night has been the hardest for him because he's realizing that his mom will not be there for his final football game.
Alex has been through so many tough challenges in his life, but the most challenging thing for him was keeping his motivation to play football without a mother to watch him play.
Her death even affects him at school, not just football. During the school day, Alex often thinks about his mom, and it can sometimes distract him from his schoolwork and hurt his grades.
Before the game on Senior Night, every senior was called out to the field to give flowers to their parents and take a picture. Alex had his aunt, Grandma, and cousin take the flowers and take a picture with him instead.
His father hasn't been in his life much at all, so he lives with his grandma. His father won't be at the game for senior night which is going to be super hard for Alex.
What started as a fun game Alex loved to play has turned into a personal battle and a part of his life that he strives to push through and grow from.