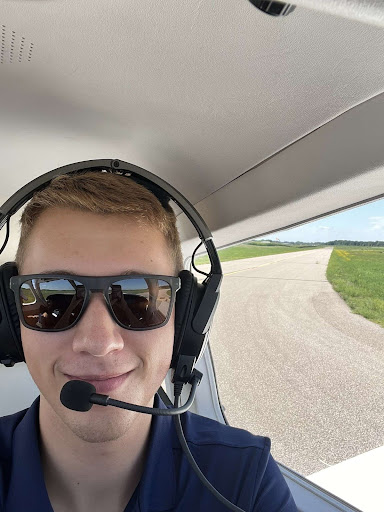 The typical high school student's life consists of school, work, homework, activities, and maybe after-school sports or even hanging out with friends. Most high schoolers even think that getting their driver's license during high school is a big accomplishment.
But Prior Lake High School student Michael Bremer has the higher goal of working toward his private pilot's license while in high school. 
Michael says his motivation is two-fold. First, "I want to become a pilot to travel the world and help connect families and friends" –  this is his main motivation and comes from the kindness of his heart.
Throughout his life, Michael has always served others. "Helping others has always given him the most joy," his mom, Jennifer Bremer says. But he does have another motivation which is a bit more traditional. motivation —  "It pays very well." Not all motivations have to be a sweet-hearted reason, right? 
Most high school students struggle with time management just being a normal high school student. This is no different for Michael as he finds "The hardest part with high school and flying is the balance between the two. Both require my full attention and sometimes it can be hard to balance the two."
However, Michael has a specific strategy that he figured out pretty early in his flying career that has helped him manage his time. "In order for me to manage my time and also live my life, I try to fly after school, so having an open 6th hour helps." This, combined with Michael "trying to fly 2 to 3 times a week," is pretty impressive to be doing in high school. 
Flying is obviously something that you can't practice in your backyard, so he makes the drive to Flying Cloud Airport which luckily for him is only about 15 to 20 minutes away. "We mainly practice in the Glencoe and Hutchison area" where "we" refers to Michael and his pilot trainer Griffin Fussy.
He is working all the way up to 1000 hours of flight time which is a huge number and commitment to achieve. Michael has about 28 flight hours right now which is a good start for the 40 hours needed for his private pilot's license. He plans on majoring in Aviation and Aeronautics at MN State Mankato and accumulating the 1000 hours required for his commercial pilot's license.
"Michael has always been a planner through life," Jennifer Bremer says. Michael committed to becoming a pilot about a year ago. "Flying has always been an idea for my future," Michael said.
What hooked Michael was an explorer flight with AV8 and after that, he immediately made his commitment. 
Michael's parents have always supported him in becoming a pilot and they plan to help him with the funding of flight school and college, so Michael doesn't have to worry about the funding as much. 
Michael says, "My first and still biggest inspiration is Neil Armstrong" which is one of his main motivators for getting his private pilot license. Most people just know Armstrong for being the first man on the moon, but he was also a naval aviator and test pilot. 
Michael says he's inspired by Armstrong's piloting career in the Navy and testing things to help other people and help contribute to future aircraft design improvements. Michael doesn't want to do the testing part, but he does want to help people by getting them from destination to destination through the air.