The Football Team's Forward Momentum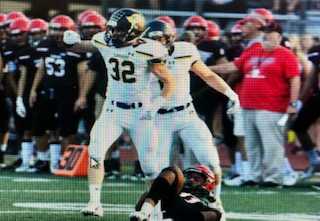 Facts show that Prior Lake football has been on a new track for the better. This great team is heading towards perfection with head-coach Gegenheimer's new
offensive strategy. The team is in a very good spot right now.
Even with a loss against the power house Eden Prairie, and the upcoming game
against another powerful opponent, Minnetonka, Prior Lake, and it's aggressive, fast,
and thought out offense and defense are showing very promising talent and potential.
The team is closer than ever and the coaches are using it to their advantage. There are
studs starting on both sides of the ball for our Lakers.
Prior Lake, in their week one opponent, won 41-8. Their week two opponent they
won 29-11. Their week three opponent, Eden Prairie, beat Prior Lake 12-35, but that's not
stopping the Lakers, or their work ethic.
Interviewing the players stayed unbiased even with their heavy excitement for the
team this year. It seems that the excitement and happiness that the coaches and players
share is the same, even if the new offensive scheme has changed the game.
In an interview with Connor Guillemette, a Prior Lake junior who is a defensive
tackle, he stated that, "the team is good, and everyone is willing to step up." Connor isn't
wrong. Last year the JV team won every single game and varsity was one
game away from going to state!
During the home game against Maple Grove, starting QB and senior, Colin
O'Connor, younger brother of Ian O'Connor, who was also known as an outstanding
athlete, was injured with a concussion. Guillemette, who also witnessed the event, told
me how it happened, "They went helmet-to-helmet." Other players said Colin was hit
already when another defensive player broke through and hit him.
In an interview with Colin himself, he said , "It was pretty bad, I was unconscious
four times that game." When asking Colin a week later before the Eden Prairie game,
Colin said he was, "Pretty solid actually." O'Connor also commented on the new
offensive style of the Lakers, "It's bringing a new approach the the game," said
O'Connor, "Instead of a pound it up the middle style, it's now a outside run and throw
game."
It is evident that even in new hard times, the team is closer than ever. With the
new style of playing the coaches bring to their already great coaching style the whole
team is ready to fight for a state title. Guillemette commented that the practices were
hard but that they were worth it.
Guillemette also explained the mentality that the coaches instill in the players, this
may be another reason for their success. Connor said, "There's a new ofensive-coordinator,
Menke, they just need to go 1-0 every game." Coach Menke is the linebackers
coach and defensive coordinator.
What Guillemette meant by this was that the offense doesn't need to have gigantic
49-0 leads. They need to get one point ahead of the opponent and have the defense hold.
Guillemette followed that quote with another, "everyone played very well, people step
up. Last year our team became well known, we play our hardest."