Prior Lake Girls Lacrosse Off to an Undefeated Season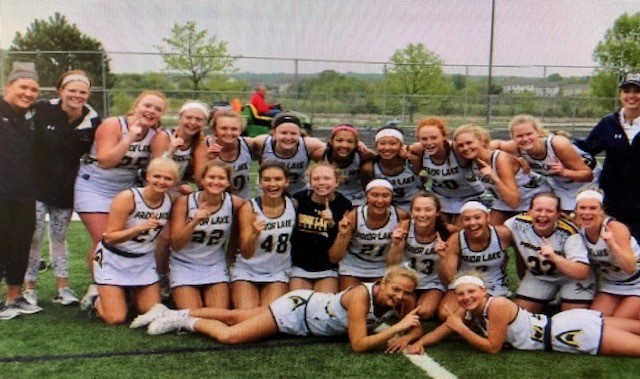 Ashtyn King and Taylor Tollefsrud
May 17, 2019
In the past few years, the Prior Lake girls lacrosse team has been fairly strong. They also have made it state the last 2 out of 3 years. Last year, they lost to Apple Valley by one point and ended up not going to state.
However, this year they are off to a good start with a record of 11-0. 
Leading the Prior Lake girls lacrosse team, captains include Grace Mattox (goalie), Kelsey Viger (defender), Josie Kropp (Midfielder) and Jordan Anderson (Midfielder).
"I see the team going pretty far this season as long as everyone keeps working together. Everyone is playing with a chip on their shoulder after last year and really wants to go to state and compete with the best. So if the desire is there I will expect big things coming," Senior Captain Jordan Anderson said.
The team had to overcome a tough loss to Apple Valley at sections last year. The coaches (Heather Pierson and Jessica Jurovich) and the team have been working hard in the offseason to come back stronger.
The coaches have recently introduced the team to journals which helps them track goals individually and as a team. They introduced these last year and they beat their number one rival, Eden Prairie. So they hope for these journals to keep working like they seem to have been in the past.
The team lost some key players this season and have gained some new players. Their team has multiple players under tenth grade which creates a young team and will keep the future for the Prior Lake Girls lacrosse team continuing.
After this season the team is losing seven senior starters and will need to depend on the younger players to step up for next year.
In order to improve on the team playing and bonding, the Lakers practice every weekday from 5-7 and do a film session on Saturdays to better their play even more. They run high-intensity drills and don't have much standing around time in practices.
The team loves the support the Laker Fans give them so this season they have been encouraging more and more people to come to watch them play. They even made fan apparel for the parents and others who want a Laker T-shirt to show support.
The captains and team also created a video to play before each game to get everyone hyped up. The video was also intended to intimidate the other players on the opposing team.
We won't know what to expect from this season but the Prior Lake Girls Lacrosse seems to be doing the right work to keep winning their games.