Past soccer player kicking it in a new sport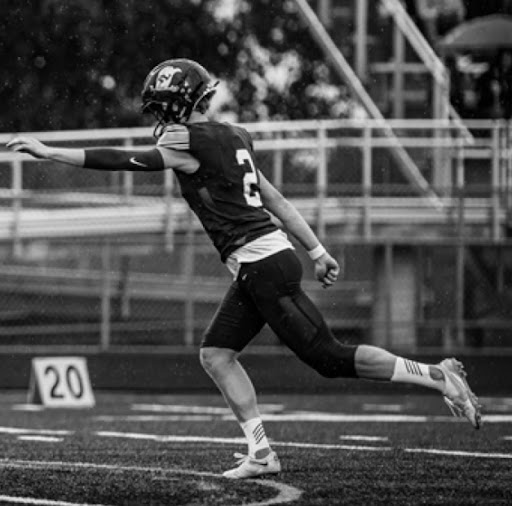 "He always had the strongest leg on the team, always kicking it over the net, skying the ball, and when we were twelve years old he shot a ball and broke the goalkeeper's arm. The goalkeeper had to leave because his shot was so hard," said Luke Dahlen, a lifelong teammate of Logan Lehrer. 
Logan Lehrer, a senior at Prior Lake High School, has played soccer since he was about four years old, winning tournaments, awards, and even making the varsity team as a freshman while doing so.
That's why many of Logan's teammates and friends were initially surprised when Logan said he wanted to join another sport, separate from his lifelong passion.
His junior year consisted of playing two varsity sports, both soccer and football. While still balancing his school workload, he would have soccer practice and games each day while still finding time to show up to Friday night football to kick field goals, and kickoffs. 
Logan started out his soccer career playing forward his freshman year and played a key role for the team. Later in his junior year, he played left back for the team before switching to football.
Many of Logan's teammates and coaches made it easy for him to make the switch as they let him know that whether he continued with soccer or not, they would still support him. 
Luke Dahlen said, "The coaches would have figured something out." 
Eventually, Logan needed to make a choice as he had a full plate on his schedule each day playing both sports. He decided to continue playing football as he saw more potential for himself in the future.
The overall transition from soccer kicking to football kicking involved many obstacles to overcome.
Logan said the main kicking difference between soccer and football is that he can't curve the ball like he could in soccer and that he has to try and sweep through it to get the ball up and over rather than taking a straight shot.
Since his powerful leg was already apparent, he focused on improving his kicking form and has shown enormous growth.
Logan said, "It helped me and hurt me because it takes a lot of muscle memory to break those habits that you have from soccer to correlate over to football." He also said he didn't get much physically stronger over his transition showing that the form was the main connection between the sports.
Much of Logan's training was alone during his first year as he still had soccer practice. Logan said he often found himself either kicking into a net or at the field. 
In Logan's junior year, he had 33 extra point attempts making all 33 in his first year of football kicking.
Over the 2022 summer, he attended camps at colleges that included the University of Missouri, Kansas State, University of Minnesota, University of Iowa, and Northwestern University.
He placed high in many of these camps, getting ranked either first or second during many of them. He also attended a national Kohl's Kicking Camp and was ranked number one in the state of Minnesota. 
"When you're working with yourself, you don't know how you stack up against other people and I thought this was a confidence booster as I was placing fairly high against top-rated kids in the nation," said Logan regarding his competition at these camps.
Logan is now a five-star ranked kicker and four-star ranked punter being the 32nd best in the country for kicking overall. 
When it's all summed up, Logan spent much of his first year kicking footballs and kicking soccer balls as well. His transition between the sports wasn't easy but was definitely refined and assisted by his past soccer skills and attributes.