Prior Lake Cheer tumbles to nationals
Prior Lake Girls Cheer earn their third consecutive national title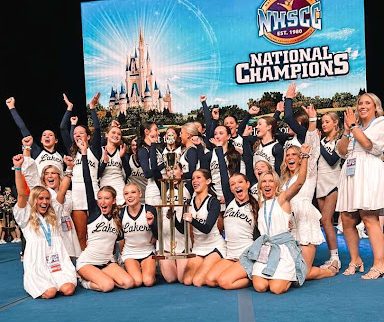 On February 10th-12th, the Laker cheer squad competed at UCS National Championships in Orlando, Florida. The girls placed first nationally in Varsity Comp and runner-up in two categories, Varsity Game Day and JV Comp.
Head coach Maddie Bills said, "It's a huge bonding opportunity between the girls and for us coaches. It's a really fun time."
The girls competed nationally after securing their 4th statewide champion title at the 2023 MCCA championships in all three categories.
"This is kind of a special year because it's the first year we've won everything all at once," Bills said.
To the team, being successful in the sport is all about supporting and working with each other. 
"It takes everybody at 150% to have that performance factor and have everything go well. One person can't be trying harder than the person next to them," said Lily Corteau, a varsity cheerleader.
"These athletes put in so much work," explained Bills. "They practice 4-5 times a week for almost 3 hours each time."
The team also ensured their success by focusing on specific techniques for their routines.
Corteau said, "More than anything, we stunt all practice. I think that our stunting technique and difficulty really set us apart from our competition." 
The squad also focuses strongly on encouragement to one another and from the Prior Lake community, even in stressful situations.
After dropping a stunt during preliminary rounds, the squad seized an opportunity to motivate each other and ultimately put their best foot forward during finals.  
Corteau said, "I think we all used it as a moment to realize that there is no room to settle and that we just need to push each other and keep each other accountable to have our best performance."
Even while on the mat, the squad is surrounded by support from more than just Prior Lake, said Bills.
Speaking of their support, Bills said that often "there would be a huge line of not only our Prior Lake families but also of different Minnesota teams" to cheer them on.
The head coach also wanted to thank the Prior Lake High School administration.  "A lot of the success stems from the resources available to us. So not only the support from our community, but school giving us the space, the equipment. We have an amazing coaching staff."
After hard work and tough competition, the Lakers were able to celebrate their successes with a trip to Walt Disney World. 
"It's so fun to go as a team. You get to be there, kind of do something out of the ordinary as a team, and it's absolutely an award. I mean not everyone gets that opportunity to get to go to Disney World," said Bills.
Congratulations to our very talented, three-time national champions!