Junior Optimist Club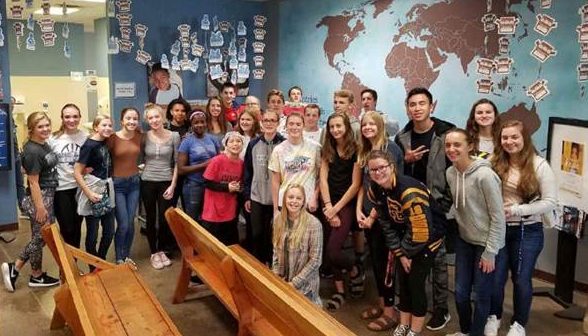 Morgan Anderson, Journalist
November 15, 2016
Prior Lake High school has many different clubs and activities. One of the more popular clubs is Junior Optimist Club. The club promotes optimism and volunteerism to make the community a better place.
The Prior Lake Junior Optimist Club is a student-led club that was started to provide students with the opportunity to give back to the community, gain leadership skills, and learn about communication skills. The club does not require a certain grade point average or any recommendations from teachers for membership. According to the Prior Lake High School Activities website, they do require "energy, enthusiasm, and the belief that kids can make a difference in their community." They meet Monday mornings at 7:30 in the lecture hall, and for those leaving their house without breakfast, donuts are served.
Mikayla McEnery is the secretary of the club. She has been a volunteer with the club for three years, but this is the first year serving as the secretary. Her main job function as the secretary is to take notes at the weekly meetings and post them on the Schoology page. She is also a very active volunteer at the Optimist Club events. As a member of the board, she is also responsible for leading two of the events throughout the year.
One of McEnery's favorite places to volunteer at is the Ronald McDonald house because "we get to help families with sick children." She says that being a part of the club has been "great! It has been really fun helping people and meeting new people."  The club also volunteers at Feed My Starving Children, Toys for Tots, and they make Valentines for veterans. During the summer months, the leaders meet to plan the activities throughout the year. Last summer the club adopted Watzl's Point Beach and spent time cleaning the shoreline and making sure it was free of garbage.
It is easy to become a member of the Prior Lake Junior Optimist Club. They do not require a registration form or fee, and signing up for activities is as easy as attending the meeting and signing up. There is no pressure to fulfill a certain number of volunteer hours or participate in a required number of events each year. According to Mackenzie Hoeg, a member of the Junior Optimist Club, she joined the club to hang out with friends and get experience volunteering in the community. She also added that "it looks great on college applications."
Come and support your community and have fun getting to know new people who like to make a difference!  7:30 – Monday mornings in the Lecture Hall!