Student Yearbook Club Staff Working Hard to Finish Yearbook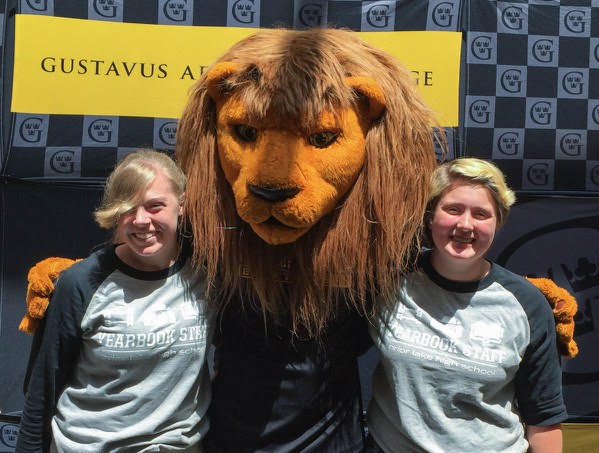 At Prior Lake High School, Yearbook Club starts in early September planning spreads and layouts for the upcoming yearbook released the second week of June. The yearbook includes pictures of the student body and staff along with athletics, activities, arts, and features.
This year's front cover features our student section at one of the many home football games, repping their favorite school colors, and cheering on their classmates. In the stands, smiling student faces shine through the flood of blue and gold. "Maya and I designed the cover for this year's book" states Megan Giese, a dedicated leader of Yearbook Club. Maya van Heteren-Freeze is also one of the leaders of the club. "We wanted to show something important to our school, so we turned our focus to the incredible sense of pride our school has and how every student has a passion."   Passion shows through this year's theme — Flooding with Pride.
Megan Giese and Maya van Heteren-Freeze also attend a yearbook workshop at Gustavus Adolphus college in St. Peter every year near the end of June. Yearbook staff from schools all over Minnesota spend three days here, taking classes to gain input on layout ideas and tips on how to make our yearbook better. "Maya and I especially wanted to focus on improving our coverage." Giese reflects last year's book and wishes to insert pictures of people besides just their portrait photos. Football is always the most covered sport in the yearbook, mainly because everyone attends the games and stays updated on how our team is doing even if they do not have an interest in football. Student Council is also covered heavily in the yearbook, with their many meetings, community events, and campaigning during the school year.
The yearbook club meets every Monday morning before school, and starting in the spring, the club meets after school and over some weekends in addition to morning meetings in order finalize the spreads for the yearbook. Meetings are run by Mr. Grimme, an English teacher at PLHS. Any student is invited to join the club and welcomed with donuts for breakfast in the morning and friendly leaders like Megan and Maya. Since there are so many events that happen within the Prior Lake High School, many clubs, programs, and charity events are not noticed because they have to compete with more popular events. But this year, Megan and Maya want to focus on giving every club an equal amount of coverage.
Although deadlines may seem far away, students and staff still have trouble finishing every spread in the yearbook on time. This takes lots of pre-planning and organizing people to ensure all sports and activities are covered. Members each cover two spreads, a fall and a winter. Some students even help with the spring insert, covering early spring sports right before the yearbooks are sent in for publishing. This involves taking pictures of a sports event or covering a school activity. Putting captions and tagging all of the students and staff in pictures is another challenge as it can take a few days to identify someone in a school so big.
Megan and Maya enjoy going to the yearbook club to see others' ideas and inputs. Yearbook is already in full swing, and the spring spread will be added back this year.