Interact with friends, Community, and District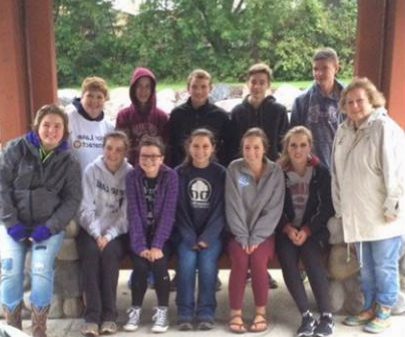 Prior Lake High School offers a wide variety of different activities, and one activity is the Interact Club. The Interact Club focuses community involvement which allows growth in creative thinking and learning of Prior Lake Students. The Interact Club is active in the Prior Lake High School for many years and more to come. It's an organization that is growing in the community.
Interact club is open to all Prior Lake High School and Area Learning Center students. Each year the Interact Club will have a range from 20-25 students with a couple more each month joining from a friend's recommendation. Interact gives students the opportunity to get involved in projects with new peers and new friends. As more individuals join, there are more groups of community projects and more service hours. Students gain a better knowledge of community work and working in teams when participating in the Interact club.
Interact focuses on community Education service projects such as Feed My Starving Children, donation boxes, Holiday donations and service with kids, and the upcoming Presidential Election in Prior Lake and Savage areas. These community projects take place over weekends or after school. The Interact staff sends out emails to the students involved in the club about sign up sheets for certain community projects. No one is forced to participate in  a certain community project, but is highly advised to take part in one or more projects. Students usually fill up the sign up sheets within a week's notice and prepare for what supplies and sources will be needed for that particular project.
The Interact club isn't difficult to join. Meetings are held every Thursday in the third pod on the first floor of the Prior Lake High School. The meetings go over what service project is coming up for the Interact club. A $5.00 fee for joining and receiving an Interact club T-shirt is required. Students are open to bringing anyone they desire or even treats in the morning for the meetings. This club allows you to interact with not only new individuals but community members around the district.